*** We are closed to visitors at this time ***
in order to protect the health and wellness of our residents.
From the Office of the State Long Term Care Ombudsman
As you know by now, long-term care facilities nationwide must restrict visitors and non-essential health care personnel per federal and state guidance. In respose to thie directive, all New York State (NYS) Certified long Term Care Ombudsmen will refrain from entering long-term care facilities and will provide "virtual" visiting by phone, email and other web-based technologies. This is a temporary, but necessary, change to protect the health and safety of residents.
» Read more of this letter here.

It is the mission of Palatine Nursing Home to provide quality health care, both long and short term, with compassion and commitment to all who seek our services. Palatine Nursing Home promotes physical, emotional, social, and spiritual well being in a positive, family – like atmosphere.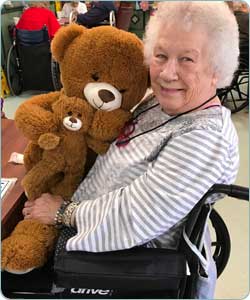 "Where it feels like home and you are treated like family"
History:
Palatine Nursing Home has been a staple in the community for fifty years. Providing skilled nursing services since 1963, Palatine Nursing Home has been dedicated to providing the highest quality services to those in our care. Conveniently located only one half mile off exit 29 of the NYS thruway Palatine Nursing Home's picturesque views overlooking the Mohawk Valley provide our residents the quaint rural atmosphere our community holds dear.
Under new management, Palatine Nursing Home is striving to bring state of the art treatment techniques and services, enhancing the community focused approach we are known for. The Healthcare Professionals at Palatine Nursing Home pride themselves on providing individualized care with the goal of enriching each resident's social, cognitive, and physical well-being.